You can update CeraMag theme in 2 methods.
Auto Update with Envato Market Plugin
We recommend Envato Market plugin. It can install WordPress themes and plugins purchased from ThemeForest & CodeCanyon by connecting with the Envato Market API using a secure OAuth personal token. Once your themes & plugins are installed WordPress will periodically check for updates, so keeping your items up to date is as simple as a few clicks.
You will see this note while installing CeraMag theme, please click it to install and activate Envato Market plugin.

(If you cannot find the note on your site admin panel – you can download the plugin from its official download page: https://envato.com/market-plugin/. And then upload it to your site and install it.)
Then go to Envato Market > Settings, click on the link to generate a personal token, and then insert it below, then save changes.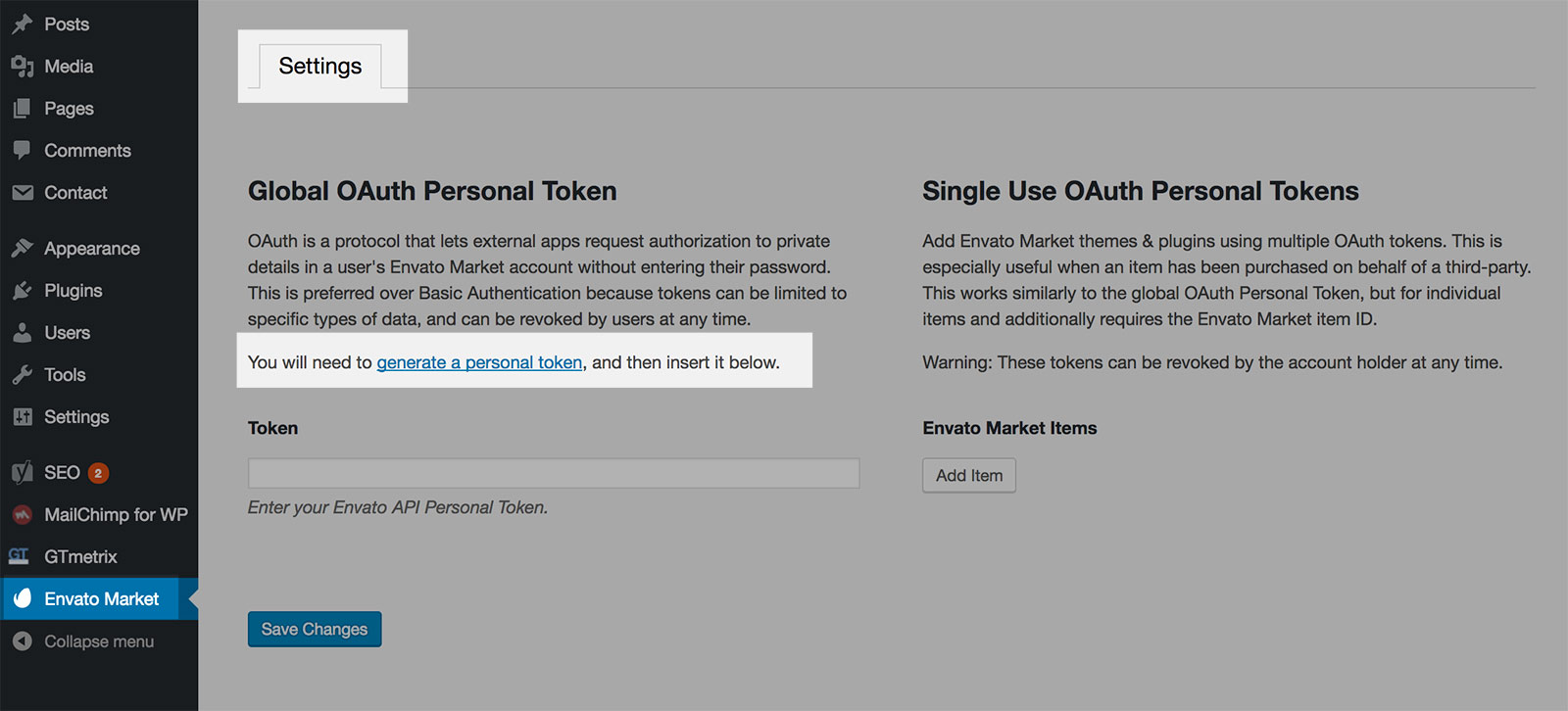 There will show new tabs: Themes & Plugins (if you have purchased both themes & plugins from Envato).
As you can see in the screenshot below: if there is a newer version for a theme or a plugin, it will show the notice, and you can update the item by clicking on the link Update Available.
Update the Required Plugin – When updating CeraMag theme, if you also see this note, please click on "Begin updating plugin" link to update the CeraMag Extension plugin as well.
---
Update Manually
Please follow steps below when you need to update CeraMag theme manually on your site:
Download the zip file of the latest version of CeraMag from ThemeForest.
Extract the zip file and find ceramag.zip.
Extract ceramag.zip and locate the ceramag folder
Log into your website via FTP, get into the theme folder (wp-content/themes/ceramag), and upload the contents of the local ceramag folder to replace the old content in the ceramag folder on your website.
After updating the theme, please go to your WordPress site dashboard, and then update and activate the required plugin.